Reillys Cellar Door & Restaurant
---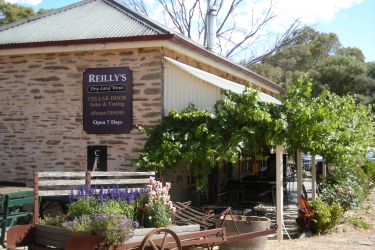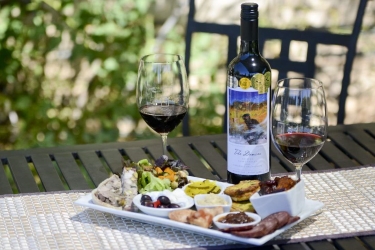 LOCATION :
Corner Leasingham Road & Hill St in Mintaro, South Australia.
OPENING HOURS :
Wine tastings and sales 7 days from 10am to 4pm.
Lunch 7 days 12-2:30pm
Morning and afternoon teas 7 days 10am-12noon, 2:30pm-4pm
To make a reservation please call 08 8843 9013 or email cellardoor@reillyswines.com.au
CLARE VALLEY GOURMET WEEKEND - 19th & 20th May 2018
Join us once again for a weekend of fine wines, food and company!
Saturday 19th and Sunday 20th - 10am - 4pm - Relax at Reillys, come for a bite or stay for the day!
Reillys Lunch Menu - Friday to Monday - Autumn 2018
Reillys Lunch Menu - Tuesday to Thursday - Autumn 2018
Reillys Lunch Menu - Dessert - Autumn 2018
(please note menus are subject to change to suit availability of seasonal local produce)
Reillys Cellar Door
Built in 1856, Reilly's Cellar Door was originally owned by an Irish shoemaker, Hugh Reilly. It is built from local slate and, along with the entire township of Mintaro, is heritage listed to preserve its unique history.
Visit our cellar door, sample our range of premium wines and learn more about our unique Dry Land growing conditions and our traditional winemaking processes.
Reillys Restaurant
As part of your stay with us, why not order lunch and choose from our gourmet menu featuring fresh local produce from in and around the Mid North region. Our own organic vegetable garden supplies fresh 'in season' produce, always ensuring the best quality to your plate.
Our friendly and knowledgeable staff will assist with selecting a wine to complement your meal based on your palate and preferences. Our specials change on a daily basis so there is always something new to try and we also have a tempting range of home-made cakes and desserts to enjoy with coffee!