Three vintages of BLUE-GOLD awards for RCV 'The Dancer' Cabernet Sauvignon
Author: Emma Purvis
---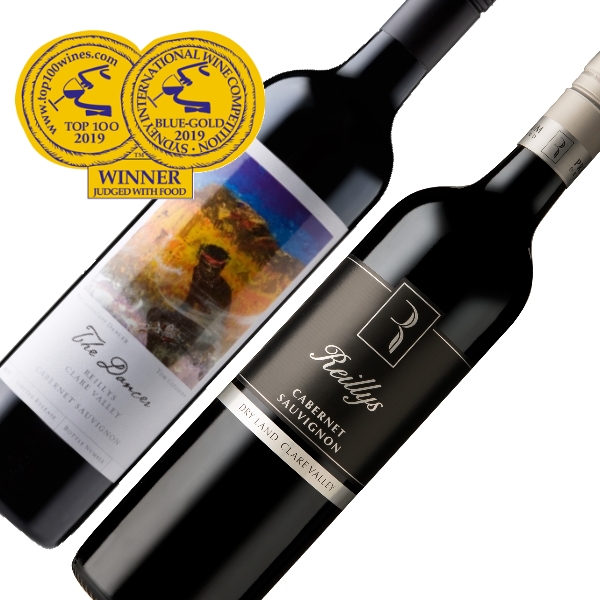 On Monday 12th November 2018, Justin and Julie Ardill and the team at Reillys Wines were delighted to receive confirmation of TOP 100 WINES & BLUE-GOLD AWARD for their 2014 RCV 'The Dancer' Cabernet Sauvignon at the 2019 Sydney International Wine Competition.
This is not the first time 'The Dancer' has received this prestigious award. Produced only when winemaker Justin Ardill judges the vintage to be of extremely high quality, this limited release wine has been produced in vintages 2006, 2010 and 2014 - each of which has received this coveted BLUE-GOLD AWARD.
As owner and chief winemaker Justin says "It is incredibly humbling to receive awards of this calibre and to be recognised as one of the top Cabernet producers in Australia. Great wines are made in the vineyard, this award is for our viticulturalist Rob Smyth and our 25 years of making great wines together."
This latest accolade continues the award-winning legacy for Reillys Clare Valley Cabernet Sauvignon with the 2013 Dry Land Cabernet Sauvignon receiving TOP 100 recognition at the 2017 Sydney International Wine Competition. In addition, at the 2015 Clare Valley Wine Show, Reillys Dry Land Cabernet Sauvignon received the Br John May Wine of Provenance Trophy for the 2002, 2005 and 2012 vintages surpassing some of the biggest named wines in the region.
Reillys' award winning Cabernet is crafted from the Smyth vineyard in Leasingham which was planted in the 1960s. Rob Smyth is Reillys' viticulturalist, exclusive grower and great mate having been a key part of the Reillys story since the very beginning in 1993. In the winery, Justin maintains his commitment to using traditional winemaking techniques of hand plunging, open fermenting and prolonged oak barrel maturation to allow the quality of the fruit and the unique terroir to truly shine.
2014 RCV 'The Dancer' Cabernet Sauvignon ~ TOP 100 WINES & BLUE-GOLD AWARD
2019 Sydney International Wine Competition
2010 RCV 'The Dancer' Cabernet Sauvignon ~ BLUE-GOLD AWARD
2016 Sydney International Wine Competition
2006 RCV 'The Dancer' Cabernet Sauvignon ~ TOP 100 WINES & BLUE-GOLD AWARD
2011 Sydney International Wine Competition
2013 Dry Land Cabernet Sauvignon ~ TOP 100 WINES & BLUE-GOLD AWARD
2017 Sydney International Wine Competition
2002, 2005, 2012 Dry Land Cabernet Sauvignon ~ Br John May Wine of Provenance TROPHY
2015 Clare Valley Wine Show
Clare Valley Cabernet Sauvignon Winery of the Year
2017 Melbourne International Wine Awards
---
Leave a comment